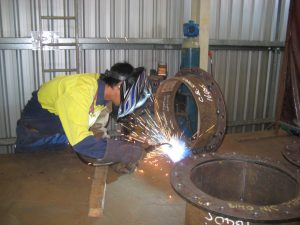 CQ Steel offer a full range of services from design through to installation for any steel construction project. Our team of qualified Boilermakers combined with our fully equipped workshop are ready to take on the toughest of projects.
Design and Drafting –  From concept through to workshop details. We can work with existing CAD drawings, or design from scratch.
Fabrication – Our fully equipped workshop and qualified staff are ready for your project. We can fabricate in any grade of Carbon Steel, Stainless Steel or Aluminium.
Protective Coatings – Our Abrasive Blasting and Painting facility can apply any paint system to your fabricated steel. Powder coating and Galvanising are also available.  
Installation – Erection of your structural steel building, Installation of new pipework and Commissioning of a the new conveyor. We see your project through to the very end.